NO STORM IS TOO LARGE
10/5/2018 (Permalink)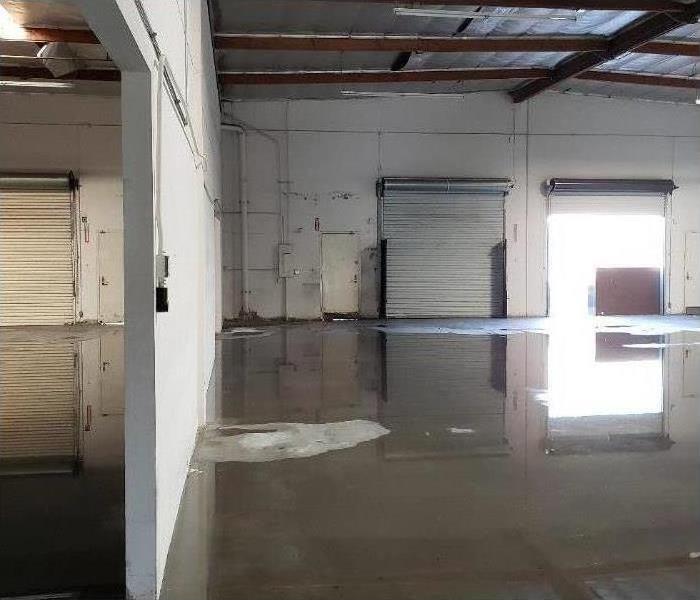 What happens if you find your Long Beach business or home in the middle of a storm? At SERVPRO of Northeast Long Beach / Lakewood, we recognize that buildings are not always adequately constructed to handle changing weather conditions. We are here to help with damage caused by wind or water in the event of a storm.
In September of 2015, the remnants of Hurricane Linda brought localized downpours from Santa Barbara to San Diego, California. That month, Los Angeles received 2.39 inches of rain, making it one of the wettest September days since 1877. Many older homes and businesses in L.A. County found themselves overwhelmed and unprepared.
In a storm such as this, torrents of black water, sewage water containing bacteria, mold, and viruses, begin to devastate businesses by first permeating through the floors, walls, and ceiling. Here the water can infiltrate through coating breaks, between seams, and under baseboards. If combined with dirt, mold may even begin to develop. When exposed to this kind of water, complete removal and replacement of contaminated areas is recommended. If restoration is an option, it is important to note how the wooden floor boards begin to expand and warp. Cupping occurs when the edges of floorboards begin to rise and can be sanded down by our SERVPRO technicians. Unfortunately, if the floor boards begin to crown due to an oversaturation of the top layer of wood, sanding is not an option and complete removal might be the best course of action.

Strong winds can cause adjacent trees to become a hazard to your home. A single branch from a large tree could have enough weight to collapse a roof or create an opening in the side of your house. As a result, runoff of torrential rains may begin to flow into your Long Beach home. In this situation, SERVPRO technicians can use penetrating moisture meters and special equipment to recommend the best course of action based on the amount of damage incurred.
Across the nation, SERVPRO has you covered with the Commercial Large Loss Division and the Disaster Recovery Team. With the ability to mobilize local command centers, along with the resources of more than 1,700 franchises nationwide, no disaster is too big. Every large loss is supervised by a commercial operations manager to help ensure seamless communication and timely mitigation. If you find yourself in a situation too big to handle, call SERVPRO of Northeast Long Beach / Lakewood for immediate and professional service.