THE LEVELS OF MOLD DAMAGE
1/9/2019 (Permalink)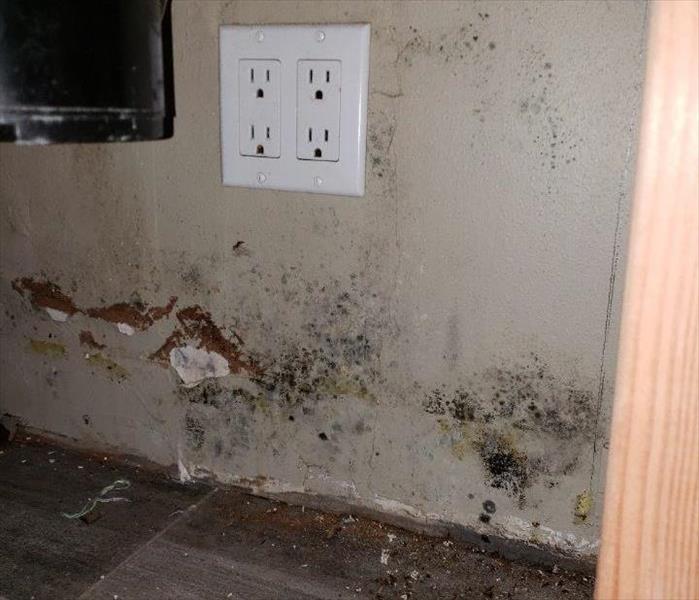 Often, it is difficult to determine the extent of mold damage, and there can be negative consequences caused from prolonged growth. When a contaminated area of any size is detected, a professional should be called to determine the best course of action to ensure the safety of those occupying the home. Here we will discuss the 5 levels of mold damage and typical actions for cleanup and removal.
Level 1 (0-10 Square Feet)
When addressed quickly and properly, level 1 mold is unlikely to cause a serious problems. A professional is likely to wear protective gear, remove contaminated materials in a plastic bag, and leave the area dry and free of mold contamination.
Level 2 (10-30 Square Feet)
Level 2 mold involves the same steps as level 1 with a few extra precautions. Moldy materials should be covered with double plastic sheets and sealed with tape before any handling or removal of materials to contain dust and debris. When the mold removal is finished, the area should be cleaned with a damp cloth and high-efficiency particulate air (HEPA) vacuum, depending on the situation.
Level 3 (30-100 Square Feet)
Mold level 3 usually indicates an underlying problem in the plumbing or air conditioning system. In addition to steps for the previous two levels, a professional may seal ventilation ducts in the work area and areas directly adjacent with plastic sheeting. Those residing in adjacent areas should be vacated as an extra precaution based on the discretion of the remediation professional.
Level 4 (Greater than 100 Square Feet)
For level 4 mold damage, every worker involved should be equipped with full face respirators and disposable protective clothing. Workers should completely isolate their work area from the rest of the home with sheeting sealed with duct tape. Air monitoring should be conducted prior to moving back into your home to determine if it is fit to reoccupy.
Level 5 (Air Conditioners and HVAC Systems)
Remediation procedures for air conditioning units and HVAC systems usually involve shutting down the system prior to remediation. Growth-supporting materials that are contaminated should be removed and sealed in plastic bags. Antimicrobial agents may be employed for greater mold removal as well.
SERVPRO of Northeast Long Beach / Lakewood is ready to help you with any project, big or small. Call us 24/7 at 562-420-0030 if you detect mold in your home.