REMAINING SAFE DURING FLOODS AND SEVERE WEATHER
4/8/2019 (Permalink)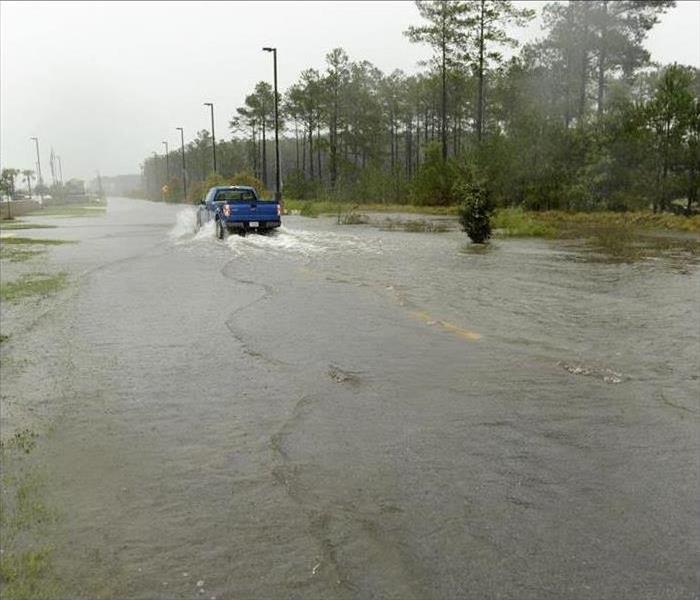 Did you know a flood can occur in any one of the 50 United States? Even California is susceptible to flooding, in addition to harsh winds and mudslides. Therefore, it is important to be prepared for these emergency situations. Here we outline important ways to prepare for flooding and encourage you to think about your plan for harsh weather conditions.
According to the National Flood Insurance Program, follow these tips to stay safe during a flood:
Seek higher grounds and avoid all areas that are at a higher risk of flooding
If your home starts flooding, go to your top floor of your home, attic, or roof
Don't try walking across flooded streams or flooded roadways
Turn off your main power and close your main gas valve
Turn on and listen to a battery-powered radio for updated storm and flood information
If you've touched floodwaters, wash your hands thoroughly with soap and water
It's important that you have an emergency supply kit in your home and vehicle in case of an emergency. You should also ensure you have you and your family's medication pre-loaded with your emergency supply kit.
If your home is affected by flood water, keep the following tips in mind:
Clear any debris from your gutters and/or downspouts
Maintain your sump pump and install a battery backup in the case of a power outage
Anchor fuel tanks
Move valuables to a safe place
Keep electrical components and appliances at least 12 inches above your house's floor elevation
When driving through a storm, keep in mind most commuter vehicles were not designed to drive through flood water. Doing so can prevent airflow to your vehicle and lock up the engine, placing you in an even worse situation. Not only is it dangerous for you and your vehicle, but other people on the road as well.
Hopefully, with the helpful tips above, you can better prepare yourself and your home for severe weather. Even with proper planning, however, situations can go awry. SERVPRO of Northeast Long Beach/Lakewood is here to help with damage caused by a storm or flooding. We're available day or night, 24/7.