IMPORTANT STORM SAFETY TIPS
4/20/2019 (Permalink)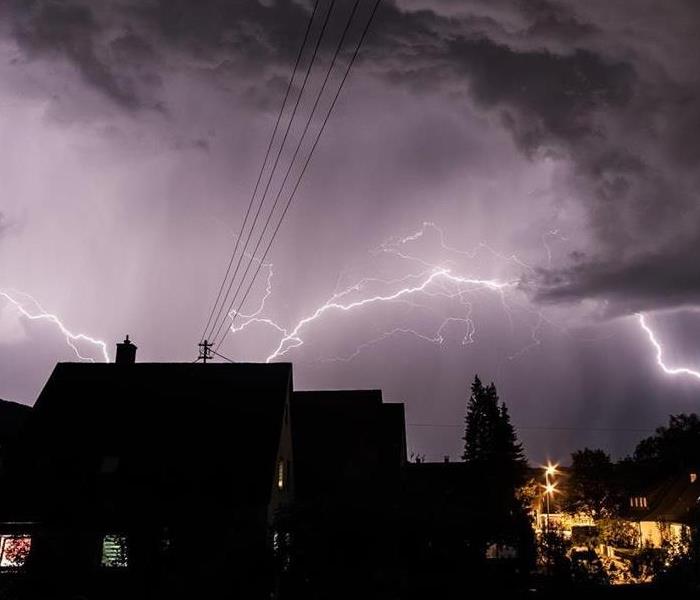 Where were you the last time you encountered a heavy storm? The key to storm and lightning safety is to avoid being in the wrong place at the wrong time. If you see a storm approaching on the horizon, remain indoors in case of a lightning strike. Lightning will follow the available paths to ground, including the electrical wiring, plumbing, or telephone lines. Try to avoid structures like bus shelters, outhouses, or any small non-metal structure that do not provide any lightning protection.
The fact that houses and buildings have an abundance of grounding paths makes them generally safe lightning shelters, but to ensure maximum safety during a storm:
Don't use any wired appliance or device. Wireless appliances are safe to use.
Stay away from water pipes and faucets. (No baths, showers, etc.)
Don't stand on a basement floor or patio slab, or anywhere where standing water or excessive moisture is present. These areas are 'ground current' danger zones.
Stay away from walls where electrical wiring is present.
If you find yourself on the road during a storm, you are safest in an enclosed, metal vehicle. The car should ideally have a hard top with its windows rolled up. If your car is struck by lightning, the current will flow through the metal body of the vehicle to the ground.
Keep the following safety tips in mind if you're driving through a storm:
If there is no shelter around and you must stay on the road, pull over, turn off your engine, and turn on your hazard lights while you wait out the storm.
Do not touch anything metal inside of your car. This includes the radio, cell phone chargers, mobile GPS devices, door handles, and the steering wheel.
If you're on a motorcycle or a bicycle, do not seek shelter underneath trees. While trees may provide cover from the rain, this will greatly increase your risk of being struck by lightning.
If you experience property loss due to a storm, SERVPRO of Northeast Long Beach / Lakewood is here to help with restoration and repair. We can clear debris, help reverse water damage, and get you back on your feet. Don't be caught off guard; call us any day, morning or night.